Azindel, the Wayfinder

Set
Azindel's Way
Type
Unit
Subtype
Mystic
Cost
4
Req.
Attack
0
Health
5
Rarity
Promo

+1 Maximum Power
When another unit enters the void increase this ability by 1.

He knows many paths through the endless wastes, though the way back can be difficult to remember.[1]
Azindel, the Wayfinder is a Unit.
How to Get
Edit
This card can be obtained by winning matches during it's promotional period, otherwise it can be crafted.
Strategy
Edit
Play with a bunch of easy to die units and ways to kill your opponent's units, to ramp into Vara, Fate-Touched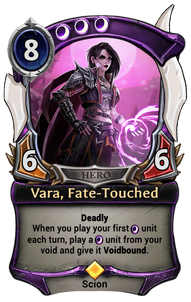 or another big card to bring your dead units back.
The ability will increase when enemy units enter The Void as well.
References
Edit