Golem

Set
Base
Type
Unit
Subtype
Golem
Cost
11
Attack
11
Health
11
Rarity
None
Golem is a Unit.
Created By
Golem is a token put into play when you cast Unstable Form
on a unit that costs 10 or more, such as Scourge of Frosthome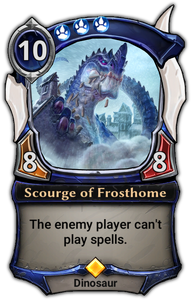 , The Tormentor 300x300px or another Golem.
If you do cast Unstable Form
on another Golem, its cost will increase by 1 and it will gain +1/+1.
Artist
Ad blocker interference detected!
Wikia is a free-to-use site that makes money from advertising. We have a modified experience for viewers using ad blockers

Wikia is not accessible if you've made further modifications. Remove the custom ad blocker rule(s) and the page will load as expected.