Icebreaker is a Unit.
How to Get
Edit
This card can also be obtained from Card Packs. Diamond Chests and Card Packs can give Premium versions of this card.
Strategy
Edit
Build around this card in a deck with stun cards.
If this unit is itself stunned(i)Stun:
Exhaust a unit. It doesn't ready on its owner's next turn. (Exhausted units can't attack or block)., it cannot exhaust itself.
This unit's ability can affect a unit that has been cursed with Permafrost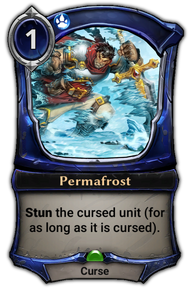 .