Lethrai Ranger

Set
Base
Type
Unit
Subtype
Elf
Cost
2
Req.
Attack
2
Health
2
Rarity
Common

Infiltrate: +2/+2

The Lethrai Elves are vicious warriors who control the Direwood and its beasts.
Lethrai Ranger is a Unit.
How to Get
Edit
This card can also be obtained from Card Packs. Diamond Chests and Card Packs can give Premium versions of this card.
Strategy
Edit
Nothing here yet!
Nothing here yet!
Unknown Alpha Patch: Name changed from Lethamyr Ranger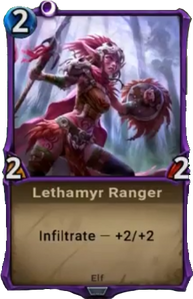 to Lethrai Ranger.