Oni Ronin is a Unit.
How to Get
Edit
This card can also be obtained from Card Packs. Diamond Chests and Card Packs can give Premium versions of this card.
Generated By
Edit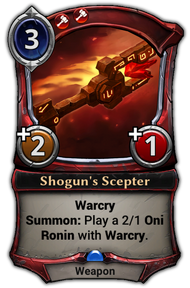 Strategy
Edit
Play him as early as possible and buff him up. Oni Ronin will reward you with a large bonus from Warcry and damage beyond your wildest dreams.
Was one of the first known cards from the game. (Along with Hellhound (Beta)
.)