Predatory Carnosaur is a Unit.
How to Get
Edit
This card can also be obtained from Card Packs. Diamond Chests and Card Packs can give Premium versions of this card.
Strategy
Edit
Nothing here yet!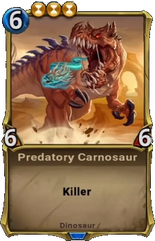 1.39
Now 7TTT for a 7/7 (was 6TTT for a 6/6)

Predatory Carnosaur has been a distorting influence on what kinds of midrange units get played, but has always gotten a pass because of how effective it is at helping keep Icaria held back a little. With Icaria slowing down, we wanted to slow Predatory Carnosaur down a little, too.