Rain of Frogs

Set
Base
Type
Spell
Cost
4
Req.
Rarity
Rare

Choose a non-power card from the enemy player's hand. Transform each copy in their hand deck and void into 1/1 Frogs with Destiny.
Rain of Frogs is a Spell.
How to Get
Edit
This card can also be obtained from Card Packs. Diamond Chests and Card Packs can give Premium versions of this card.
Generates
Edit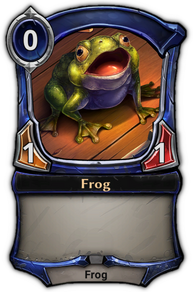 Strategy
Edit
Nothing here yet!
Nothing here yet!