Scouting Party

Set
Base
Type
Spell
Cost
6
Req.
Rarity
Rare
Scouting Party is a Spell.
How to Get
This card can also be obtained from Card Packs. Diamond Chests and Card Packs can give Premium versions of this card.
Creates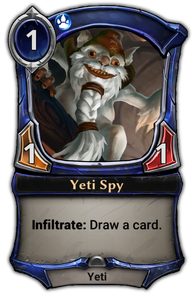 Strategy
Good to play this in a deck that wants to get units out, but might need the draw.
Can sometimes work out as a 6 mana draw 4, especially when paired with cards like Calderan Gunsmith.
Synergies:
The Witching Hour
, with each Yeti counting as a card, it decreases Witching Hour's cost by 5.
Wump, Party Starter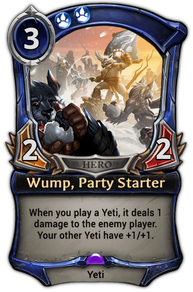 , gives you 4 damage to the opponent, and makes the total body of the 6 mana card an 8/8.
Shimmerpack
turns each of those 1/1's into 4/4's, giving a 20/20 total body around turn 8. On color too.
Notes
This card was the first promo card in the Closed Beta, it was added to card packs and became a

Rare when the game went into Open Beta.
Artist
References
Ad blocker interference detected!
Wikia is a free-to-use site that makes money from advertising. We have a modified experience for viewers using ad blockers

Wikia is not accessible if you've made further modifications. Remove the custom ad blocker rule(s) and the page will load as expected.