Twinsight Visionary

Set
Base
Type
Unit
Subtype
Mystic
Cost
5
Req.
Attack
3
Health
3
Rarity
Unknown

Summon - The top unit of your deck gains Echo.
Twinsight Visionary is a Unit.
How to Get
Nothing here yet!
Strategy
Combos well with Second Sight
and Crown of Possibilities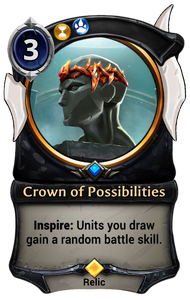 .
With Second Sight you can play a minion with a favorable ability, then play this, with Crown of Possibilities, it increases the amount of skills you get.
Notes
The topmost unit of your deck gets echo, even if the current top card of your deck is a spell.
Artist
Ad blocker interference detected!
Wikia is a free-to-use site that makes money from advertising. We have a modified experience for viewers using ad blockers

Wikia is not accessible if you've made further modifications. Remove the custom ad blocker rule(s) and the page will load as expected.