A unit is a creature, minion or character a player can play onto the battlefield to fight for him. The units can be used to block incoming attacks or attack the opponent's units or the opponent himself.
Units are the biggest class of cards in Eternal and divided into multiple subclasses (the subclasses below are the ones known so far):
Barbarian
Beast
Bird
Centaur
Cleric
Clockroach
Cultist
Dinosaur
Dragon
Elemental
Elf
Engine
Explorer
Gargoyle
Giant

Golem
Gorgon
Grenadin
Gunslinger
Illusion
Mage
Minotaur
Mystic
Nightmare
Nightswornr
Oni
Paladin
Phoenix
Radiant
Rebel

Rogue
Scion
Sentinel
Serpent
Shaman
Soldier
Sporefolk
Sprite
Stranger
Tinker
Trader a
Valkyrie
Vermin
Warrior
Yeti
Units can also belong to multiple subclasses. For example, Icaria, the Liberator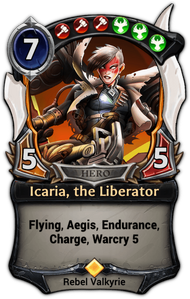 is a Rebel Valkyrie.
a: Not on collectible cards.
r: Removed from the game.
List of Unit Cards
Edit
Name
Effect
Subclass
Cost
Required
Influence
Rarity
Ageless Mentor
Summon - Each unit in your hand with cost 4 or more gets +2/+2.
Mystic
2
3

T
-
Blazeling
Entomb - Deal 3 damage to the enemy player.
Elemental
1
1

F
-
Champion of Chaos
FFF: +1/+1 and Overwhelm
SSS: +1/+1 and Deadly
Nightsworn Warrior
3
3

F S
-
Champion of Glory
FF: +2(atk) and Quickdraw
JJ: +2(hp) and Endurance
Warrior
1
1

F J
-
Cobalt Acolyte
Summon - Give a unit Flying.
Barbarian Serpent
2
1

P
-
Crownwatch Deserter
Warcry
Rebel Soldier
3
3

F J
-
Crownwatch Paladin
Aegis, Warcry
Paladin
2
2

J
-
Dark Wisp
Entomb - Draw a card.
Elemental
1
1

S
-
Direfang Spider
Deadly
Vermin
1
1

S
-
Direwood Assassin
Infiltrate - Kill an enemy unit.
Elf Gunslinger
3
2

SS
-
Direwood Beastcaller
Infiltrate - Play two 5/5 beasts.
Elf
1
1

S
-
Dusthoof Brawler
Overwhelm
Oni
5
3

F
-
Fearless Nomad
Overwhelm
Rebel
3
1

F J
-
Grenadin Assembler
Summon - Play a 1/1 Hellhound.
Beast
1
1

F
-
Hellhound
Beast
1
1

F
-
Icaria, the Liberator
Flying, Aegis, Charge, Endurance, Warcry 5
Rebel Valkyrie
5
5

FFF JJJ
-
Initiate of the Sands
+1 Maximum Power
Mage
1
1

T
-
Jarall's Lieutenant
Summon - Stun an enemy unit.
Giant
3
3

P
-
Jotun Warrior
Giant
3
5

P
-
Jungle Prowler
Beast
3
2

S
-
Lethrai Ranger
Infiltrate - +2/+2
Elf
2
2

S
-
Nightbeast
Your units are Unblockable.
Beast
7
7

PPP SSS
-
Oni Ronin
Warcry
Oni
2
1

F
-
Outlands Sniper
Summon - Deal 2 damage.
Gunslinger
2
2

FF
-
Praxis Displacer
Summon - Put a unit into its owner's hand.
Mage
3
3

TT
-
Predatory Carnosaur
Killer
Dinosaur
6
6

TTT
-
Psionic Master
Flying
When you draw a card, Psionic Master gets +1/+1.
Mystic
1
1

P T
-
Pteriax Hatchling
Flying, Echo
Dinosaur
2
1

P T
-
Ravenous Thornbeast
Summon - Sacrifice another unit to give Ravenous Thornbeast +2/+2.
Beast
3
3

S
-
Renegade Valkyrie
Flying, Double Damage
Rebel Valkyrie
1
2

F J
-
Serpent Trainer
Flying
Infiltrate - Play a 2/2 Serpent Hatchling with Flying.
Serpent
2
2

P S
-
Skysnapper
Flying
Serpent
2
2

P,S
-
Soul Collector
When another unit dies, Soul Collector gets +1/+1; Entombed - You gain (hp) equal to Soul Collector's (hp).
Nightsworn Mage
1
1

S
-
Storm Lynx
Ambush
Beast
2
3

P,T
-
Thunderbird
Flying
Bird
2
2

P
-
Tinker Apprentice
Summon - A unit or weapon in your hand gets +1/+1.
Tinker
1
1

J
-
Thunderstrike Dragon
Flying, Echo
Dragon
5
5

PPP
-
Tundra Explorer
Explorer
2
2

P
-
Twinsight Visionary190px
Summon - The top unit of your deck gains Echo.
Mystic
3
3

T
-
Valkyrie Enforcer
Flying
Summon - Silence another unit.
Valkyrie
3
3

JJ
-
Vengeful Acolyte
Entomb - An enemy unit gets -2/-2.
Mage
2
2

S
-
Worldpyre Phoenix
Flying
Entomb - Draw Worldpyre Phoenix from the Void with +2/+2 and cost increase by 2.
Phoenix
5
5

FF
-
Yeti Snowslinger
Draw a Snowball.
Yeti
2
2

P
-
Yeti Spy
Infiltrate - Draw a card.
Yeti
1
1

P
-